With such hectic lives, it is hard to find time for rest and relaxation. We rarely take a break for ourselves and being pampered is not something most of us are used to. Between work, taking care of a family, walking dogs, grocery shopping, and running around finishing all the little tasks that are constantly left undone, we rarely have time to sit down for a few minutes.
But every once in awhile, you deserve to be pampered and to allow yourself to relax. Take a moment to destress and enjoy time worrying about absolutely nothing. The best way to do this is to allow someone else to help. At Amazing Hands Day Spa, we offer many different services that can help you feel better—body and mind. Our goal is to help you feel rejuvenated and energized after a session with us. We offer massages and body treatments that can help target achy muscles, problem areas, and help you feel calm.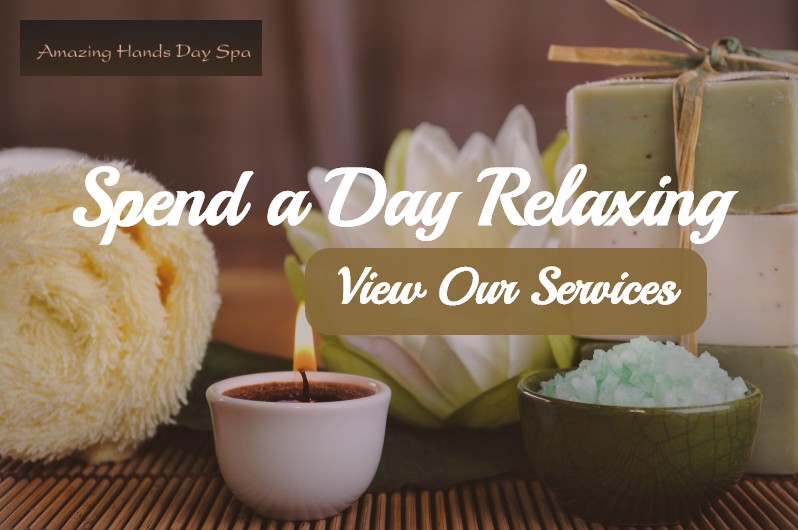 If you can't remember the last time you allowed yourself to relax and get pampered, now is the time. A massage can help you in so many ways—offering more benefits than just relaxation and less muscle tension. Stress is estimated to be related to 90 percent of diseases, massages can help reduce and manage stress, allowing you to feel better in different areas of your life. These benefits include:
Greater energy

Improved concentration

Better quality of sleep

Decreased anxiety

Reduced fatigue

Fewer sports injuries

Reduced headaches
These are only a few of the benefits that you can experience with massage. If stress is ruining your life and making you feel worse every day, schedule a massage with us. We offer many different types of massage therapy, allowing you to find the right one for you and your needs. We will go over some of the most famous massages.
Swedish Massage
One of the most popular massages we offer is the Swedish massage. This massage type uses light pressure and strokes to help relieve tension, relax muscles, and improve blood flow. In a Swedish massage, the strokes are always moving in the direction of the heart.
Swedish massages are very beneficial, not only releasing tension but also decreasing toxins in the body and stimulating the lymphatic system. Many people who receive Swedish massages experience decreases in their level of the stress hormone.
Sports Massage
Injuries, sore and tight muscles, and a limited range of motion are common problems among athletes and people who are physically active. A sports massage is designed specifically for people that struggle with these problems. This massage type is a deeper tissue massage that incorporates stretching. Used to reduce inflammation from injury, this massage can help people with chronic pains and injuries.
A sports massage can be beneficial both pre-workout or a post-workout. When used as a pre-workout treatment it can help stretch the muscles, allow for increased blood flow, and helps to improve the workout. For post-workout, a sports massage can help with the recovery process—reducing soreness and increasing flexibility. This massage is great to athletic people who are suffering from their active lifestyle.
Hot Stone Therapy
A hot stone massage is a massage therapy that helps with muscle tension and eases damaged soft tissue. Smooth, flat stones are heated and places in specific areas of the body—deepening relaxation and improving circulation in the muscles.
The heated stones allow your muscles to release tension and stress quicker than other massage styles. A hot stone massage can help reduce anxiety, improves your quality of sleep, and make your feel better both mentally and physically.
Aroma Hot Candle Massage
This massage incorporates aromatherapy, using heated oils that are gently massaged into the skin. The oils are used to help you relax and experience a sense of tranquility. The candles aroma can help relax your mind but they are also beneficial to your skin. Moisturizing and nourishing, your skin becomes soft, smooth, and radiant. This massage will help you relax, feel calm, and clear your mind.
Bamboo Massage
A bamboo massage is more unique than some of the massages we offer. A hollow bamboo cane is used for this massage, offering a deep sense of relaxation. The cane is either warmed or used at room temperature and can stimulate the tissue, offering relief to muscles. The muscles are then kneaded to help with tension and poor circulation. A bamboo massage helps remove toxins from the body, helps with lymphatic drainage, and can relieve stiffness in the neck, shoulders, and back.
These are only a few of the many massages and other treatments we offer. View the massages we offer and find one that will benefit you the most! Also check out our other spa treatments, including: a body wrap, body scrub, Italian hands, foot scrub and massage, active isolated stretching, ear candling, and an indian scalp massage! We also offer spa packages that mix and match spa treatment for an ultimate relaxation session!
You deserve a day of tranquility, relaxation, and a calming atmosphere. Take a day for yourself, get pampered and feel rejuvenated. Contact us to schedule an appointment today!