Every so often we all need a break from our hectic lives, to take time to ourselves, and give ourselves a little treat. This could be anything—a personal day away from work, a trip to your favorite store, or even a day at the spa. If you have be slowly getting more and more overwhelmed with your daily activities, it is time to take a day for yourself. Treat yourself to something special and enjoy some time relaxing and not thinking about daily stresses.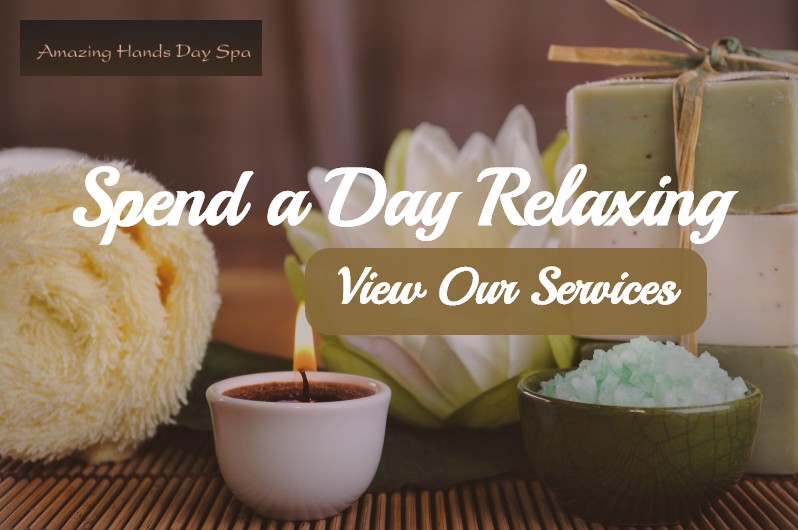 Spa Day
Heading to the spa is a great way to destress and enjoy a day to yourself. At Amazing Hands Day Spa, you can enjoy many different spa treatments that will allow you to relax and leave feeling rejuvenated and better than ever. A spa is a great getaway, with a peaceful and calming environment, gentle music, and spa services that release all the tension and allow you to forget about the stresses in your life.
Amazing Hands Day Spa offers many different massages—everything from a swedish massage to hot stone therapy. You will be able to find a massage that is relaxing and peaceful, targeting your sore muscles and offering you tranquility. You can learn a little bit about the different massages we offer to find the best one for you!
But for a spa day that truly allows you to relax and give you even more benefits, a spa package may be just what you need. Amazing Hands Day Spa offers a variety of spa packages that combines many of our different services. Pair a deep tissue massage with a body wrap or a body scrub. Or enjoy an aroma hot candle
massage with a body wrap or scrub and also add an indian scalp massage. With the spa packages, you have the opportunity to truly get pampered and enjoy an entire day to yourself.
There are some other ways to give yourself a day to yourself, read on to learn more.
Shopping Spree
Some people feel relaxed and stress free while shopping at their favorite store. Walking up and down the aisles of a Target are another great way to destress and clear your mind. Or head to the mall to get yourself some new outfits and styles you have always wanted to try.
Personal Day
A personal day is all some of us need. A day to ourselves, when the kids are at school and no one is in the house, to truly relax and get things done. If you have trouble relaxing, this may be a great options. It allows you to get things off of your to do list and clears up your schedule for the next few days. Or you could simply relax at home. Draw yourself a bath, grab a book, light some candles, and enjoy a quiet house for the first time in a long time.
No matter which option sounds the most relaxing to you, remember to give yourself a day to yourself every once in awhile. Relax, destress, and clear your mind. Amazing Hands Day Spa can help you to reach ultimate relaxation mode. We offer many different services that can help you feel pampers and at ease. Contact us now and schedule an appointment!